It's not an apartment or a condo. It's a co-op!
By John Maynard and Richard Hagar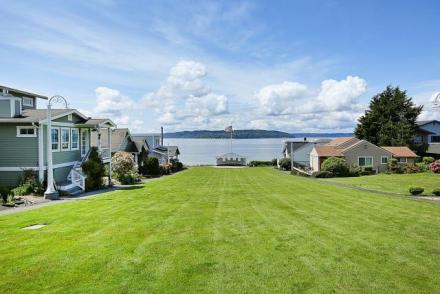 Enlarge image
There are apartments and condos. Then there are co-ops. This type of real estate ownership is pretty common in large East Coast cities such as New York, Philadelphia and Boston, but it's not as common here.
A beach community in Des Moines caught KPLU's John Maynard's eye. Seashore Club Co-operative features homes that face a common green. On one end of the green is Puget Sound and on the other end is a large parking lot. Some of the homes in this complex are for sale but when Maynard started to check them out he was surprised to find that the complex was a co-op and that you can buy a unit only if you're voted in by the board.
Seattle-area real estate appraiser Richard Hagar says there are a number of co-ops dotted around the region and likely some great buys, but it's a different type of ownership that not everyone is familiar with.
They started back on the East Coast. Apartment dwellers lived in a building as renters but when the landlord sold the building the tenants got together, formed a corporation, and then the corporation bought the building from the owner. That gave all the people living in the building corporate ownership – or stock. And along with the stock they had the right to own a unit. So it's a different type of control or ownership.
There is bank financing available but not every bank does this type of lending because the buyer is essentially buying stock. Hagar also says it's not always easy to appraise these types of properties because, at least in this region, there are not many comparables. He recommends buyers seek out specialists who regularly handle co-ops so that the sale goes smoothly. And of course, there's also the question of whether you'll be voted in by the co-op board.